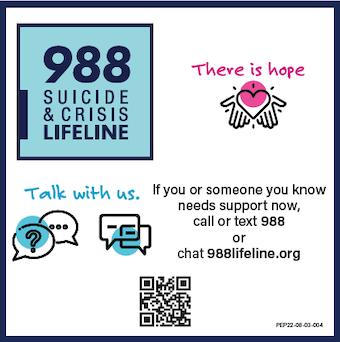 Suicide Prevention: Everyone Can Learn How to Help
September is Suicide Prevention Month and this week is Suicide Prevention Week. Decipher Your Health thought it would be wise to reflect on why this is such an important topic. We also wanted to offer steps to help you navigate challenging mental health situations and provide resources for you and your loved ones. 
Suicide deaths are up
According to the CDC, the U.S. has seen an increase in the number of deaths by suicide since 2001.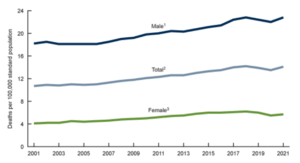 There are many theories as to why this might be, including increased access to handguns and decreased access to mental health professionals.  
As an emergency medicine physician, I have seen the after effects in families and patients from successful and unsuccessful attempts, and the incredible strain caring for these worthy individuals has caused to our health care providers. Since 1974, the number of inpatient psychiatric hospital beds has decreased from 370,000 to 40,000 in 2014. And since the pandemic, this has only worsened with over 600 hospitals currently at risk for closure. So many people in crisis come to the ED door looking for help — their life in upheaval. Yet, they may wait days for a psychiatric bed to become available. Before the pandemic, the rate of acute psychological distress in the general population was 4%. As of 2020, it's estimated to be 13%.  This an indicator for the need for acute psychological care.
Read about Marijke's experience and her advice on what to say and not say to someone who has lost a loved one to suicide.
Physicians are not immune
In my profession, 400 physicians die by suicide each year. That is twice the rate of any other profession. The Lorna Breen Foundation has been working on decreasing the stigma associated with mental illness following the April 2020 death by suicide of Dr. Breen, who served as medical director of an emergency department in Manhattan during the terrifying initial waves of COVID. As we see this pandemic of mental health emerge, the theme of this year's Suicide Prevention Day was Creating Hope Through Action. 
Resources for people in need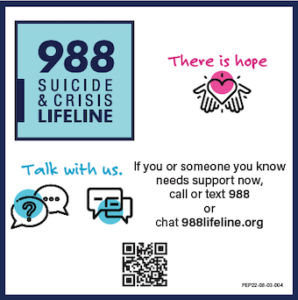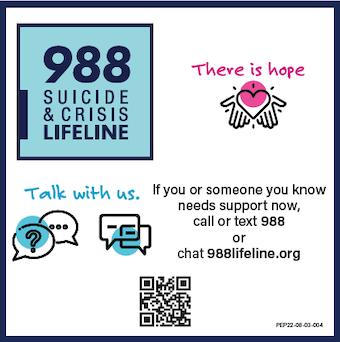 First, if you or someone you are with is acutely suicidal, please contact a mental professional immediately. In the United States, call or text 988.
In Canada, you can call the Talk Suicide Canada hotline at 1-833-456-4566. Residents of Quebec should call 1-866-APPELLE (1-866-277-3553). Canadians should have access to a 988 number by the end of 2023.
You can also call 911. Emergency departments can provide additional assistance with placement for someone having a psychological emergency.  Some hospitals have emergency psychiatric services but not all do. An official assessment will determine what acute (immediate) needs are present. Some counties have specialized paramedics and mental health providers that will answer the 911 call at the scene in an attempt to diffuse a challenging situation.  
However, it is best to help before the emergency happens and you can by being  prepared, with the following tools.
Psychological First Aid was developed  by the Red Cross and Johns Hopkins University. Its goal is to assist in the case of disasters like the recent Maui wildfire or Hurricane Idalia, and the psychological trauma that some survivors may experience. 
Mental Health First Aid, from the National Council for Mental Wellbeing, can help individuals who may experience an acute mental health crisis. 
Neither tool requires a degree in psychology, but they do require some additional training to better prepare youto help those in crisis.  
When Emergency Strikes
In today's fast-paced world, where physical health has always been a priority, the importance of mental health is often overlooked. However, the tide is changing. The recognition and understanding of mental health have grown significantly, leading to the development of initiatives like Psychological First Aid (PFA) and Mental Health First Aid (MHFA). These two aids are vital in promoting mental wellness and managing mental health crises effectively.
Psychological First Aid: A lifeline in times of crisis
PFA is an evidence-based approach often used in the immediate aftermath of a traumatic event. It aims to reduce initial distress and foster short- and long-term adaptive functioning and coping. PFA is not a therapy or treatment. It's a humane, supportive, and practical response to individuals suffering from stress reactions.
PFA is based on three principles: 
Look: Observe the individual for any visible signs of mental distress.
Listen: Engage in active listening to understand the person's needs and concerns better.
Link: Connect the individual to information, services, and social supports for recovery.
Mental Health First Aid: Empowering communities
MHFA is an educational course designed to equip individuals with the skills to help someone developing a mental health problem or experiencing a mental health crisis. The training helps individuals identify, understand, and respond to signs of mental illnesses and substance use disorders. 
MHFA promotes early detection and intervention by teaching participants about the signs and symptoms of specific illnesses like anxiety, depression, schizophrenia, bipolar disorder, eating disorders, and substance use disorders. The program also covers potential risk factors and warning signs for these mental health problems.
There are many benefits to PFA and MHFA. 
Reducing stigma: Both PFA and MHFA help in reducing the stigma associated with mental health issues by promoting understanding and empathy.
Building resilient communities: By equipping individuals with the skills to respond to mental health crises, communities become more resilient and capable of supporting their members.
Encouraging timely intervention: Early detection and intervention can significantly improve the prognosis of mental health disorders. Both PFA and MHFA emphasize this aspect, leading to better mental health outcomes.
Supporting recovery: By linking individuals to appropriate professional help and social support, PFA and MHFA play a crucial role in the recovery process.
Psychological First Aid and Mental Health First Aid are vital tools in promoting mental health awareness and responsiveness. They empower individuals and communities to understand, recognize, and respond to mental health issues effectively. As we continue to break down the barriers and stigma associated with mental health, the importance of PFA and MHFA will only continue to grow.
Additional suicide prevention tools
There are other tools if you or a loved one are having difficulty with sleep, stress, anxiety, depression, or substance use disorder. You canreach out to your community, friends, family or use apps to help with sleep, breathing, or meditation. A simple photo of your favorite animal or human, or a beautiful view of nature on your phone may be enough to lower an elevated heart rate. 
Many tools are free. This Pause a Moment tool is available to any and all (Full disclosure, I helped work on the development of this with some much smarter colleagues at Stanford – Drs. Kaysen and Wiltsey Stirman).  
And on the lighter side, if you need a smile on your face today, consider calling 1-707-8PEPTOC and selecting 1 if you are feeling frustrated, 2 for some life advice, 4 to hear the sound of children laughing and 6 to hear how awesome you look. (There are options in Spanish too!).  And if you are so inclined to help these middle-schoolers continue brightening the world with their advice, consider donating to Westside School's 501c3 non-profit as they may field millions of calls a month!  And until next time, let's help you Decipher Your Health.  
Disclaimer
The information in this blog is provided as an information and educational resource only. It is not to be used or relied upon for diagnostic or treatment purposes.

The blog does not represent or guarantee that its information is applicable to a specific patient's care or treatment. The educational content in this blog is not to be interpreted as medical advice from any of the authors or contributors. It is not to be used as a substitute for treatment or advice from a practicing physician or other healthcare professional.